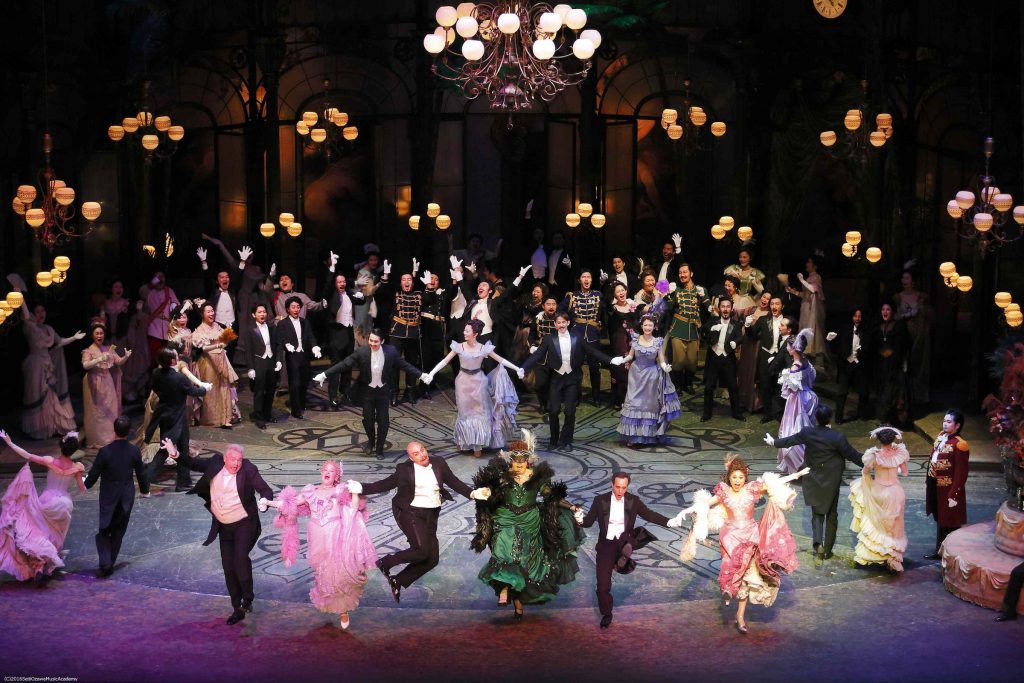 Seiji Ozawa Music Academy Opera Project XVIII
J.Strauss II Operetta "Die Fledermaus"
2022 Spring!
We are pleased to announce that the Seiji Ozawa Music Academy Opera Project will return in spring 2022 with Johann Strauss II: Die Fledermaus. This will be the fourth time that the Music Academy performs this comic operetta that is delightful with its lilt of the Viennese waltz.
Diego Matheuz, who has conducted numerous brilliant performances with the Saito Kinen Orchestra, will take the baton. He is deeply trusted by Academy Director Ozawa and already very enthusiastic about conducting the Music Academy Orchestra.
The base for production will return to the ROHM Theatre Kyoto, and we also plan to perform the "Opera for Children" to an audience of Kyoto City elementary school students. The true charm of world-class singer voices, magnificent stage sets, and the powerful sounds of the orchestra brimming with youthful spirit can be experienced only with a live opera performance. Cancelled last year in March due to the spread of COVID-19, Die Fledermaus will make its much-awaited return. We invite you to look forward to this opera production by the Music Academy for the first time in two years.
Check our official website for Casts information and Tickets sales.
Seiji Ozawa Music Academy Opera Project XVIII
J.Strauss II Operetta "Die Fledermaus"
ROHM CLASSIC SPECIAL
Opera in 3 Acts in German with Japanese Titles
Music Director: Seiji Ozawa
Conductor: Diego Matheuz
Seiji Ozawa Music Academy Orchestra
2022
March 18 (Fri) ROHM Theatre Kyoto Main Hall
March 22 (Sun) ROHM Theatre Kyoto Main Hall
March 24 (Thu) Tokyo Bunka Kaikan Main Hall
March 27 (Sun) Yokosuka Arts Theatre Main Hall
Presented by:
Seiji Ozawa Music Academy / VEROZA Japan
Kyoto City / ROHM Theatre Kyoto (Kyoto City Music Art Cultural Promoting Foundation) *Kyoto Performances
Co-presented by: Rohm Music Foundation / Yokosuka Arts and Culture Foundation *Yokosuka Performance
Sponsored by: ROHM Co., Ltd